Last night, the new Muckhart Community Plan 2017 was launched at a packed meeting held in the Coronation Hall !!
Those attending the Launch Event were given a printed copy of the new Plan and were able to discuss different aspects of the Plan, with MCC members. Those present were also able to register their interest in particular elements of the Plan and to 'sign-up' to participate in new groups which will be working to help deliver some of the Action Plans.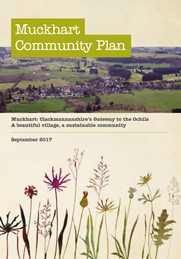 Over the next few weeks, copies of the new Muckhart Community Plan 2017 will be distributed to every household within the Muckhart area.
In the meantime, you can view, and download, a copy of the new Plan on the Muckhart Community Plan page http://176.32.230.19/muckhart.org.uk/muckhart-community-plan/