Muckhart and Glendevon Amenity Society – Who are we ?
Chairman     David Carlyle (07801 810064)
Secretary      Sheena Dean    (01259 781551)
Members:     Meriel Cairns, Stuart Dean, Alistair Cowan, Sheila Fisher, Allison Smith, Alison Peden, Frances Lyndsay
Constitution of the Society – What do we do ?
Our constitution has the following objectives:
To stimulate public interest in, and care for the beauty, history and character of the area.

To develop and foster community spirit in Muckhart, Glendevon and the surrounding area.
To encourage the preservation, development and improvement of features of general public amenity or historic interest.
To encourage appropriate planning in Muckhart, Glendevon and surrounding area
To pursue these ends by means of meetings, exhibitions, lectures, publications, conferences, social events and publicity and promotion of schemes of a charitable nature.
Past Events – How and where do we do that ?
In recent years we have organised Burns Suppers, Open Gardens, Jazzebecues, talks on the V&A coming to Dundee, our local Roman Camp, Talking to Elephants and lots more.  These events were held in the Coronation Hall or local gardens, houses.
Recently we purchased a marquee for use by the community.  The Marquee can hold 70 seated comfortably and measures 6 * 12 metres.  A nominal hire fee will be charged for private hire, otherwise the marquee is free for any community group/event.  A deposit will be required to cover any damage but will be fully refunded if the marquee is returned in the same condition as it was despatched.  If you would like to find out more please contact Alison Peden on 07766780538 or Ajpeden.watson@googlemail.com or Sheila Fisher on sheshe5@hotmail.com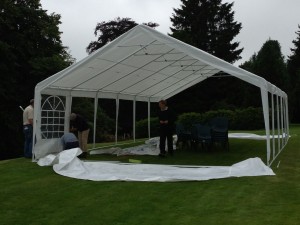 Upcoming events and dates for the diary in 2015
June 21st, Conference of the Fairies, Muckhart Nature Park 2pm.  Join the award winning Walking Theatre Group on a magical adaptation of the Shakespeare Classic 'A Midsummer Night's Dream', with audience participation.  Look out for the flyers and posters coming out soon.
August 22nd, Back by popular demand our bi-annual JazzBBQ.
The Jazz BBQ was a huge success, music and food greatly enjoyed by all who came. Here are a few photos of the night and if you missed it, look out for the next event in 2017.
We are always keen to receive new ideas for community events so please feel free to contact us with any ideas you may have.  Also if you would like to join the committee and help, please feel free to talk to any of us about this.