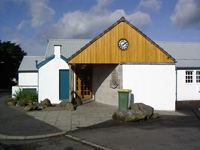 The Coronation Hall is an excellent venue for all social gatherings, lectures and presentations. The main room is spacious, with a stage, ample tables and seating, and there is a well equipped kitchen. There is also a smaller room which is suitable for serving food and drink and which could be used for smaller gatherings such as committee meetings.
For details of availability and cost, contact Christina Sutherland on 01259 781458 or 07711 529006.
Our Coronation Hall is a community asset which was entrusted to the village in 1929 by Isabella Christie in a Feu Charter.  It is managed by a committee of local volunteers and we meet about 5 times per year. The committee members are listed below, please feel free to approach any of us with suggestions, ideas for improvement or any matter relating to the hall.  We are always looking for fresh ideas and volunteers so please consider joining the committee.
Alison Peden (Chair) – Ajpeden.watson@googlemail.com
Pat Jordan (Vice Chair) – patjordan12@btinternet.com
Niall Simpson (Treasurer) – simpson.niall@gmail.com
Christina Sutherland (Secretary) – 01259781458
Alison Mann
Kim Allan
Sarah Smart
Val Whyte
Greer Conroy
Margo McKerrell
OUR 100 CLUB
The Coronation Hall runs a 100 Club, our own Muckhart-style lottery.  For the cost of £1 a week paid monthly or annually, you have the chance to win £100 every month. Much better odds than the National lottery! The form is attached below, please feel free to download, complete and return it to Alison at ajpeden.watson@googlemail.com or Pat at Patjordan12@btinternet.com.  Forms are also available from the hall noticeboard, so pick up one the next time you are in.
WHAT'S ON AT THE CORONATION HALL
Monday
6pm – 7pm Rainbows
6pm – 7:30pm Brownies
7.30pm – 9pm Guides and Senior Section
Tuesday
Evening (3rd week) SWRI
Wednesday(am)
Women's Pilates
Men's Pilates
Thursday
Simpli Yoga with Sarah Smart 6.00 p.m.
Friday
Available for hire
Saturday
Available for hire
Sunday
Available for hire  
Other regular users include the Coronation Hall Committee; Community Council; the Horticultural Society; Muckhart Nature Park committee; Muckhart Kirk Session etc.
Contact Christina Sutherland for more details about hiring the Coronation Hall.
Telephone: 01259 781458.  Mobile: 07711 529006
Please open these links to see the latest Hall Committee minutes