Golf
Muckhart Golf Club has 27 holes, three 9 hole courses of which two are the designated 18, so there is always a 9 hole course available, even when competitions are in progress.
The courses are scenic, interesting, testing and very well kept.
The club is friendly, has a strong membership and a thriving Junior Section.
Footgolf
Footgolf is the fastest growing new sport in the UK & Europe. Muckhart Golf Club has three footgolf courses, one which was the venue for the 2018 UK Footgolf Scottish Open in July attracting 96 players from throughout the UK & Europe to enter. Season tickets are available to play all year or just come along and pay to play at a cost of £5 for Visiting Juniors or £10 for visiting adults. As a Golf Club member you will get both sports with your membership.
The clubhouse is a perfect place to hold your special occasions with a capacity of up to 140 persons. Our caterers Stazco Catering will help make your event a special one by providing excellent options from cold buffet to gastro themed nights and we can also assist you with your party planning.
To find out more go to www.muckhartgolf.com or telephone 01259 781493 (Golf Shop) or 01259 781423 (clubhouse) Option 1 for the Office, Option 3 for the caterers.
Muckhart Funeral Menu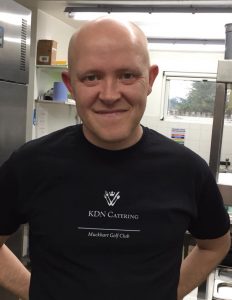 Squash
If you are interested in playing squash, try Dollar Squash Club. Details at www.dollarsquashclub.co.uk.