Based in the Coronation Hall, Muckhart Picture House brings big screen, surround sound entertainment to the village.
The films will start at 7.30 p.m. unless otherwise stated so arrive early to get a good seat.  There will be a tuck shop and a short interval. Bring your own refreshments and glasses if you want.
No need to book, just come along.
Adults entrance fee is £5 and children under 18 are £4 each. Double bills are £8 for both films.
See you there.
NEXT FILM
Saturday 8th December 2018 7.30 p.m.
Mamma Mia – Here We Go Again.  The sensational sequel is bigger and better than the original.
To get us in the mood for Christmas, here's your chance to dress up in 60's bling and join in the songs. You don't have to – don't let it stop you coming – but it could be fun.

CHILDRENS FILM – SATURDAY 8TH DECEMBER 2018 2.30 P.M.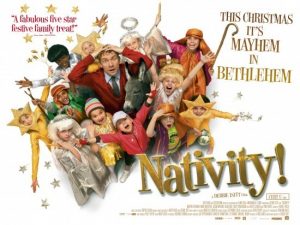 PG
This funny and very British film tells the story of school teachers trying to put together a Nativity play that rivals the posh public school down the road. Great for children and adults alike.
Hope to see you at one or more of our selections. If you have any suggestions for films, please let us know at one of the screenings.
There will be pizza available to buy.