Based in the Coronation Hall, Muckhart Picture House brings big screen, surround sound entertainment to the village.
The films will start at 7.30 p.m. unless otherwise stated so arrive early to get a good seat.  There will be a tuck shop and a short interval. Bring your own refreshments and glasses if you want.
See you there.
NEXT FILM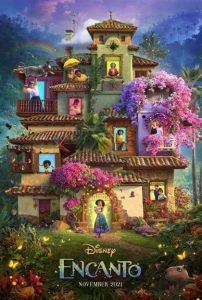 The enchanting family film ENCANTO.
Walt Disney Animation Studios' ENCANTO tells the tale of an extraordinary family, the Madrigals, who live hidden in the mountains of Colombia, in a magical house, in a vibrant town, in a wondrous, charmed place called an Encanto. The magic of the Encanto has blessed every child in the family with a unique gift from super strength to the power to heal—every child except one, Mirabel. But when she discovers that the magic surrounding the Encanto is in danger, Mirabel decides that she, the only ordinary Madrigal, might just be her exceptional family's last hope.
Come and have some home made cakes and sandwiches with us. We are starting at 4 p.m. on Saturday 23rd April so you can enjoy your tea while watching the film.
Entrance fee is £5 per person or £18 for a family of four.
Can I ask you to let me know if you are coming so that we know how many to cater for. Thanks very much. My mobile is 077080 55515 if you prefer to message me. 
BYO drinks