Based in the Coronation Hall, Muckhart Picture House brings big screen, surround sound entertainment to the village.
The films will start at 7.30 p.m. unless otherwise stated so arrive early to get a good seat.  There will be a tuck shop and a short interval. Bring your own refreshments and glasses if you want.
No need to book, just come along.
Adults entrance fee is £5 and children under 18 are £4 each.
See you there.
NEXT FILMS
ARE YOU UP FOR THIS?  Our Halloween offering on 28th October is going to be both Trainspotting films, the second one is 20 years later.
Trainspotting 1 will start at 7 p.m. (note the earlier time) and Trainspotting 2 will follow on at approximately 8.45 after a short interval.
I don't need to remind you that these are definitely not for the squeamish or easily offended but remain the iconic Scottish films of our age. There will be an interval between the films so you can leave if you want to or come in for just the second film!  We hope to set up tables between the seats so bring drinks and snacks to see you through.
One film will be the usual price of entrance, £5 but if you can manage both we will only charge £8, a bargain.
Se you there
OUR CHRISTMAS FILMS FOR BOTH CHILDREN AND ADULTS WILL BE ON 2nd DECEMBER
There will be 3 short films for children including The Stick Man and The Gruffalo in the afternoon.  Keep watching for further information.
In the evening, we are going back to the classics with MEET ME IN ST LOUIS. This has been described as one of the greatest musicals ever made starring Judy Garland.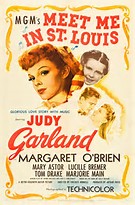 Hope to see you at one or more of our selections. If you have any suggestions for films, please let us know at one of the screenings.