Your Muckhart Community Council Members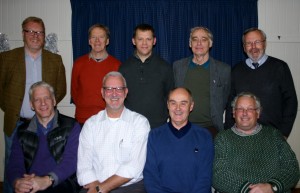 John Anderson – Chair (front row, third from the left)
Jonathan Bacon – Web-site Coordinator (back row, middle)
Danny Conroy – Treasurer (back row, first from the left)
Stuart Dean – Planning Convenor (back row, far right)
Jon Jordan
Philip Lord – Minute Secretary (back row, fourth from the left)
Matthew Pease – (front row, first from the left)
Patrick Thompson – Vice Chair (front row, far right)
Marlene White
Val Whyte
Mike Wilson – Secretary (front row, second from the left)
Peter Wyatt – (back row, second from the left)
MCC is currently undertaking updates and improvements to this website.
If you would like an event or your organisation details added to this site, then please just get in touch !!
Contact:
Mike Wilson, Secretary:
or
Jonathan Bacon, Web-site Coordinator:
jonathan.bacon21@googlemail.com
Details of the next MCC Meeting dates can be found <<here>>.